| | | | | | | |
| --- | --- | --- | --- | --- | --- | --- |
| Order Number/Date | Railroad | Road Number | Weight | Length | Seat | Notes |
| 007- 3/1906 | Erie | #4000 (#7) | 27T | 55'2″ | 75 | 100H.P., Original Cost $19668.82, Sold to UPRR, 12/1907, Rebuilt into T-18 |
U.P. #7
This is a lithograph of McKeen Motor Car #7 from a McKeen Letterhead dated Sept. 18, 1913.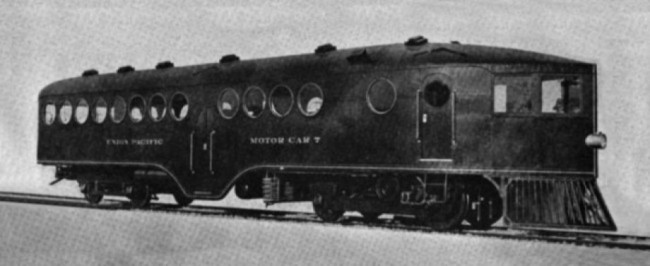 McKeen Car U.P. #7, notice the motorman's door on the right side of the motor car.
Photo Courtesy of James Ehernberger.
U.P. #7 seen here with one of the U.P. Trailer cars also built by the McKeen Motor Car Company.  Seen here in this 1907 scene, this car was the first McKeen Car with a center entrance and round passenger windows.
Photo of McKeen Motor Car #7
McKeen Car #7 of the Union Pacific Railroad. Courtesy of Union Pacific Historical Collection McKeen Car #7.
Photo Courtesy of the Union Pacific Museum
Motor Car #7 rebuilt as Trailer Car T-18, painted in streamline colors with M-23, M-24, and it's sister Trailer Car T-19.